Aprilog Surface Mount Adapter Bases
A surface mount base provides access for a range of accessories. The base with SMT contacts replaces the component on the target board pads, and has male connector pins that mate with a varity of accessories such as ZIF socket attachment, emulator attachment, logic analyzer attachment, SMT component carrier tops, emulator extension cables to name a few.

The base and the attachment form a two-part adapter. Two part construction offers flexibility and reduces cost.

Installation is the same as other surface mount devices, and infrared and hot air procedures are recommended. Hand soldering is also a viable alternative for a skilled technician.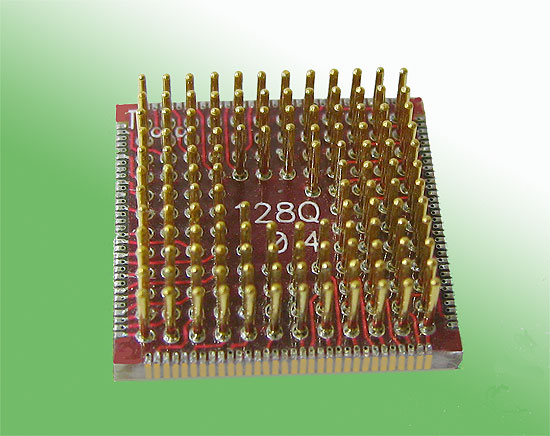 Soldering Bases Instructions.pdf
Parts are listed in ascending pin count order.


Part Number
Click Enlarge
8 Pin SMT Base
$
Add

Part Number
Click Enlarge
10 Pin SMT Base
$
Add

Part Number
Click Enlarge
14 Pin SMT Base
$
Add

Part Number
Click Enlarge
16 Pin SMT Base
$
Add

Part Number
Click Enlarge
18 Pin SMT Base
$
Add

Part Number
Click Enlarge
20 Pin SMT Base
$
Add

Part Number
Click Enlarge
24 Pin SMT Base
$
Add

Part Number
Click Enlarge
28 Pin SMT Base
$
Add

Part Number
Click Enlarge
32 Pin SMT Base
$
Add

Part Number
Click Enlarge
36 Pin SMT Base
$
Add

Part Number
Click Enlarge
38 Pin SMT Base
$
Add

Part Number
Click Enlarge
40 Pin SMT Base
$
Add

Part Number
Click Enlarge
44 Pin SMT Base
$
Add

Part Number
Click Enlarge
48 Pin SMT Base
$
Add

Part Number
Click Enlarge
52 Pin SMT Base
$
Add

Part Number
Click Enlarge
54 Pin SMT Base
$
Add

Part Number
Click Enlarge
56 Pin SMT Base
$
Add

Part Number
Click Enlarge
64 Pin SMT Base
$
Add

Part Number
Click Enlarge
66 Pin SMT Base
$
Add

Part Number
Click Enlarge
68 Pin SMT Base
$
Add

Part Number
Click Enlarge
80 Pin SMT Base
$
Add

Part Number
Click Enlarge
84 Pin SMT Base
$
Add

Part Number
Click Enlarge
100 Pin SMT Base
$
Add

Part Number
Click Enlarge
112 Pin SMT Base
$
Add

Part Number
Click Enlarge
120 Pin SMT Base
$
Add

Part Number
Click Enlarge
128 Pin SMT Base
$
Add

Part Number
Click Enlarge
132 Pin SMT Base
$
Add

Part Number
Click Enlarge
144 Pin SMT Base
$
Add

Part Number
Click Enlarge
160 Pin SMT Base
$
Add
Part Number
Click Enlarge
168 Pin SMT Base
$
Add

Part Number
Click Enlarge
176 Pin SMT Base
$
Add

Part Number
Click Enlarge
208 Pin SMT Base
$
Add

Part Number
Click Enlarge
216 Pin SMT Base
$
Add

Part Number
Click Enlarge
240 Pin SMT Base
$
Add