Aprilog Surface Mount Component
Footprint Update & Conversion Adapters
Conversion adapters provide an easy and low cost way to mount more modern smaller footprint package and pitch components to a PCB designed for larger pad patterns.

The adapter edge connections match the larger circuit board footprint, and the pads on the adapter top match the smaller component footprint. The adapter pads are wired 1 to 1.

The prices below are one each prices. Prices for manufacturing quantities are available upon request. Call 800.686.6428 in the USA or email for quantity price and delivery.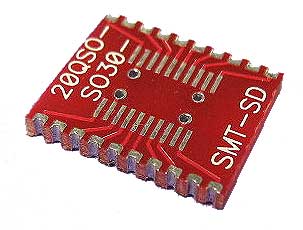 Part Number
Click Enlarge
8 Pin Chip Mounting Correctors
Price
Shopping Cart